April 2019
From the Provincial Prior:
APPOINTMENT OF PROVINCIAL SUB-PRIOR
I am very pleased to announce E.Kt. Julian Mitchell, Gt Herald will be appointed and invested as Provincial Sub-Prior of the Province of Hampshire and Isle of Wight at the Annual Provincial Meeting, at the Novotel, Southampton, on Saturday 7 September 2019.
As our previous Provincial Registrar, Vice-Chancellor and now Chancellor he has worked tirelessly for the good of our Order and this Province and I am delighted he has accepted my invitation to be Provincial Sub-Prior.
January 2019
From the Provincial Prior:
"Em Knight James A.K. Colville.
It is with great sadness the Province announce that Em Knight James Colville, Sub-Prior, has heard and obeyed the call of the Great Captain on 31 December 2018.
James was well known throughout the Province of Hants and IOW in many of the Orders of Freemasonry and beyond and a good friend to all who knew him.
He is in our prayers and thoughts."
The service for E. Kt James Colville will take place on Friday 8th February 2019 at the Oaks Crematorium, Bartons Road , Havant (PO9 5NA) at 11.30 am.
Afterwards at the Brookfield Hotel, Havant Road, Emsworth (PO10 7LF).
Mrs. Colville has requested family flowers only, and charitable donations to the British Heart Foundation.
It is hoped that as many Knights as possible can attend to pay their respects at the loss of our Provincial Sub Prior.
September 2017
On Tuesday 5th September, the Grand Master invested the new Provincial Prior of Hampshire and Isle of Wight, Charles Aspinell. More details to follow.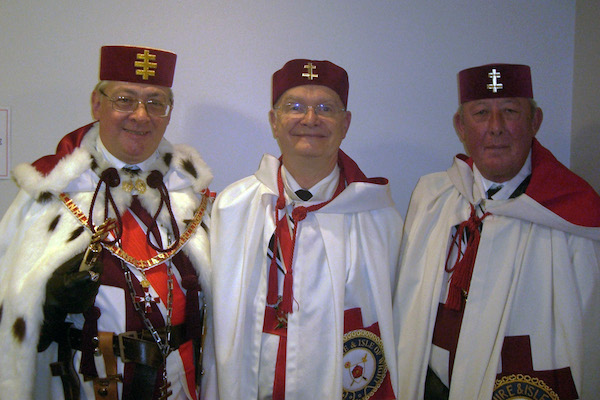 The Grand Master, the Provincial Prior and the Provincial Sub Prior.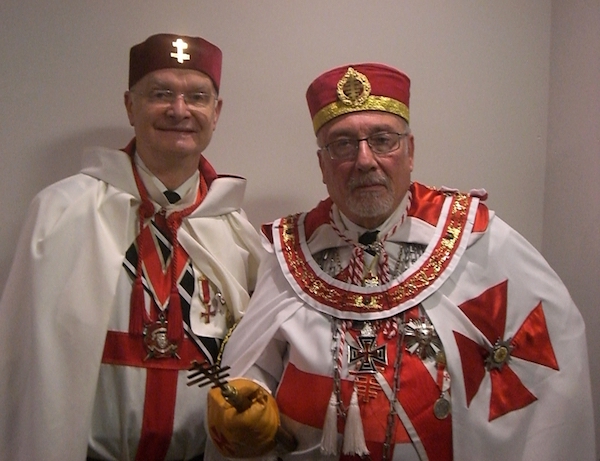 Rt. Em. Kt. Charles Aspinell with the Grand Master of Scotland
May 2017
NEW PROVINCIAL PRIOR
The Provincial Sub-Prior in Charge is pleased to inform you that the Most Eminient and Supreme Grand Master, Paul Raymond Clement, G.C.T. has invited E.Kt. Charles Jonathan Aspinell, P.Gt.A-de-C, to be the new Provincial Prior for Hampshire and Isle of Wight.
E.Kt. Charles has accepted the office and will be installed as Provincial Prior on Tuesday 5th September 2017 at the Novotel in Southampton, details of which will be circulated shortly.
It is hoped that as many of you can attend the meeting to see the installation of E.Kt. Charles as well as the investiture of the Provincial Officers for the year.
Provincial Sub-Prior Appointment
The Provincial Prior Nominate, E.Kt. Charles Aspinell, P.Gt.A-de-C, is pleased to announce that E.Kt. James Colville, P.Gt.St.B. (B) has been pleased to accept the office of Sub-Prior and will be installed at the investiture meeting in September.
January 2017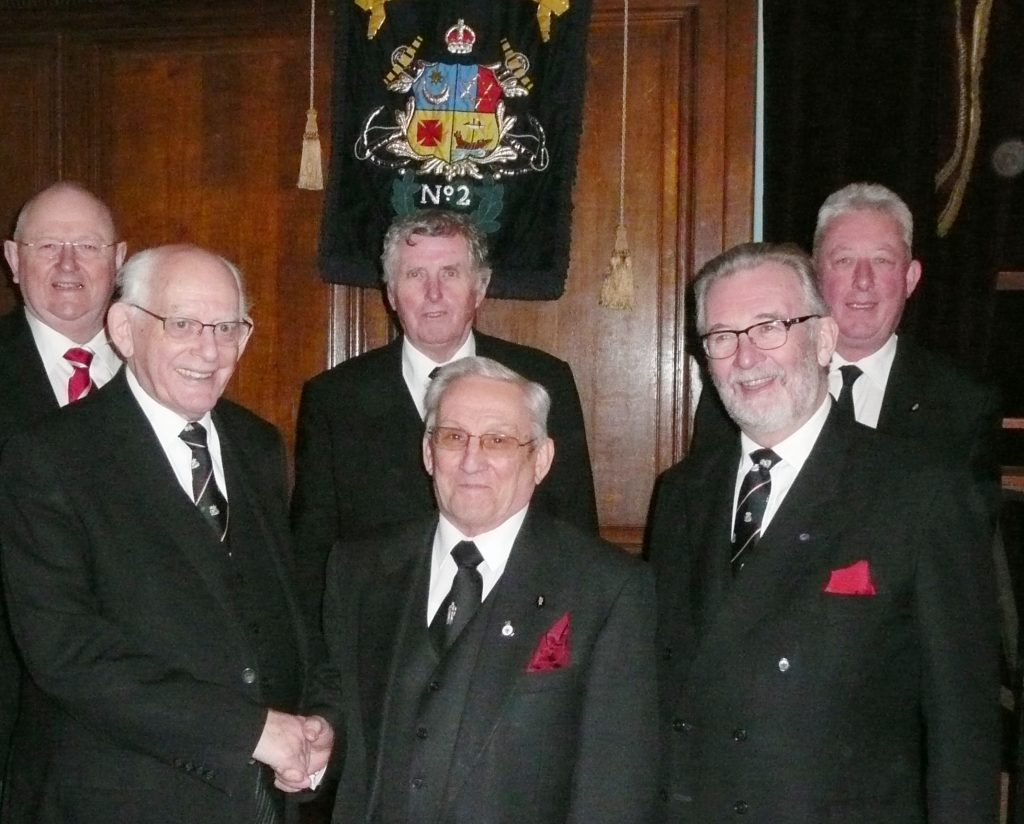 This photo was taken at Royal Naval on Friday 13th on the official visit of the Great Seneschal, Malcolm Slater who presented, on behalf of the M.E. and S. Grand Master, a field Promotion of P.Gt.A-de-C to E.Kt. Peter Gilham. Those in the Photo are: E.Kt. Timothy Wheeler, Deputy Great Marshal, Provincial Prior, Provincial Sub-Prior, Great Seneschal, E.Kt. Peter Gilham, R.E.Kt. Angus Hannagan K.C.T. the Great Vice-Chancellor.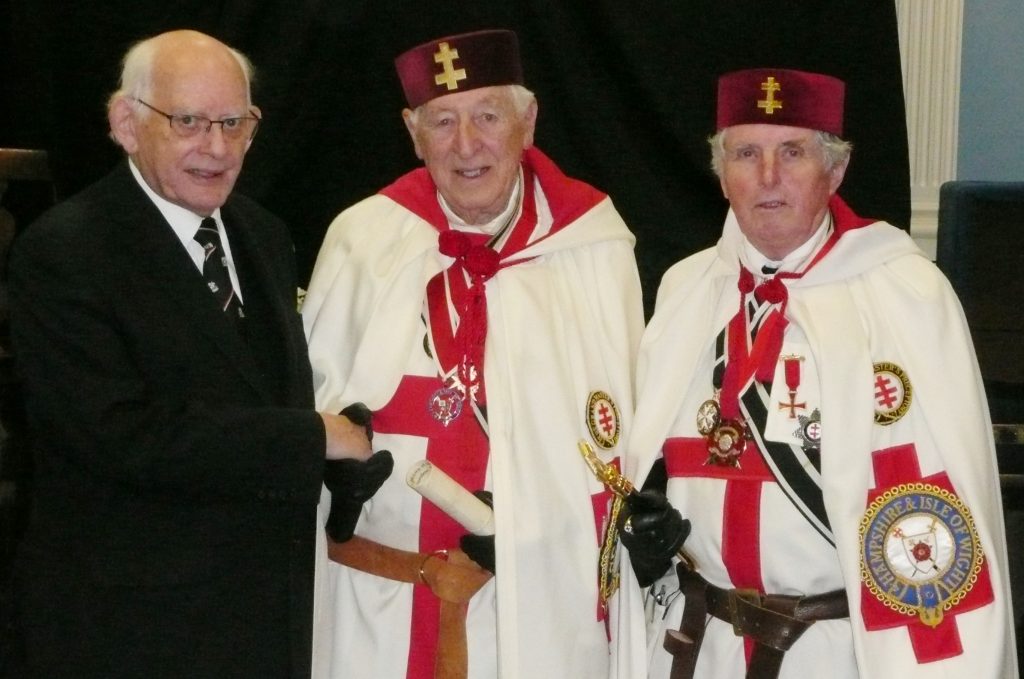 At Royal Gloucester on Wednesday the 18th January, the Great Seneschal presented V.E.Kt. Walter John Wild, P.2nd.Gt.Con. with a 50 year of Service Certificate. He was installed into the Order at Royal Gloucester Preceptory on the 13th January 1967. The Provincial Prior presented John with a 50 yr Provincial Lapel Badge. Also at that meeting Kt. Stewart Wilkinson and Kt. Neil Ratcliffe received field promotions from the Provincial Prior to Past Provincial Aide-de-Camp.
September 2016
Address at the Provincial AGM by the Provincial Prior: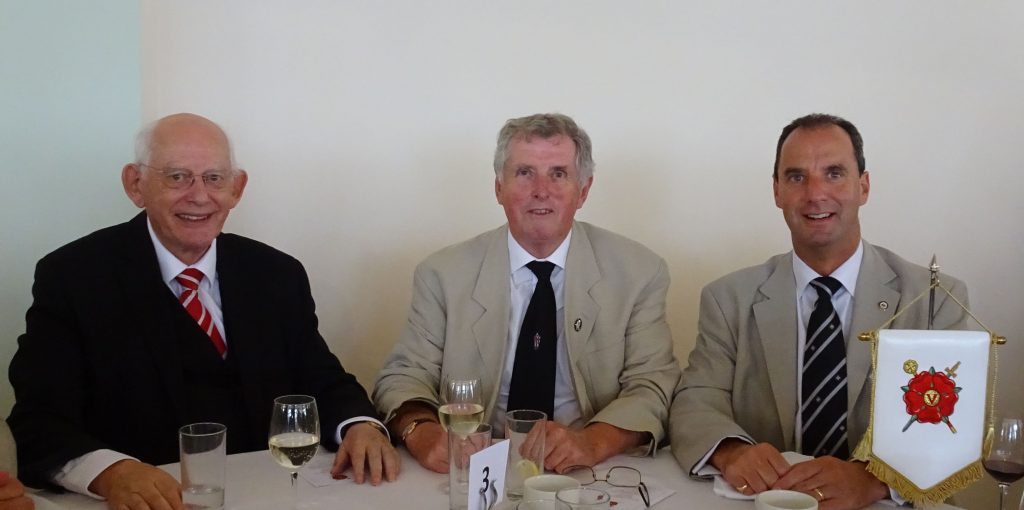 Although I have welcomed everyone today, on behalf of the North & South Island I thank you all again for supporting the Province at its annual meeting here at Rookesbury Events Centre. Some of you have travelled far to be with us. It is an aspect of this wonderful, progressive and select order that support is exchanged all over the country and it gives a warm feeling. I have visited nearly every Province over the past year and know the joy it has given me and today we can repay the hospitality received and hopefully renew and recharge friendships.
As always at these annual gatherings, we have to say good bye to some Knights and welcome others into the team, it is a progressive part of what we are. So thank you in particular David Nash & Peter Sanders who have done so much for the Province whilst in office. Thank you indeed for the hard working Julian Mitchell our Provincial Vice-Chancellor and the support of my Sub-Prior and other Members of the executive. It is appreciated. To all the background team led by our Provincial Marshall and Bodyguard Commander I thank you and wish all those whom I have appointed and invested today a happy and enjoyable year.
My official visits to all twelve Preceptories over the past year have been very enjoyable, happy occasions and thank all Members for their welcome and good humour. The support you have given me in my golf challenge this year to raise monies for the Hospital of St John and Hospital of St Cross resulted in a cheque for £1135 (plus 20% gift aid) being donated to each. A hard day indeed consisting of 108 holes and 33 miles walked, but worth the effort. Our bi-annual church service was held in June at St Cross, it was led so well by E Kt Rev Bill Whitfield and was supported very well by other Heads of Orders in our Province, but attendance by our own Knights was disappointing.
It has been said that the membership of any organisation is made up of four sets of bones. There are wish bones, which spend most of their time wishing someone else would do the work. Along with them are the jawbones, who do all the talking about the work and very little else. Another group is the knucklebones, who knock what others try to do. But most valuable are the backbones that get under the load and actually do the work. Let's all be backbones. Enjoy our Order. Support the Craft, the bedrock of our Masonic journey, but encourage our Chapter Companions to come along and crusade with us on our journey.
Today is the last time I will be attending as your Provincial Prior. The Grand Master has accepted my request to stand down next year on the 1st March 2017.(St David`s Day). I was `given` three years and will have done four and by this time next year I will be in my 78th year and think it right to stand to one side and let someone else carry on the work in this Province. Just to be sure and squash any rumour; I jumped and was not pushed. The Installation of the next Prior will take place on Tuesday 5th September 2017 and therefore from March until that meeting the Sub-Prior will be in Charge. I wish him well. I want to take this opportunity of thanking you Malcolm (Slater) for all your encouragement and advice since you installed me. Thank you!
I end this address by saying once again how unexpected the honour was to become your Provincial Prior in this Progressive & Select Order and the custodian of this Office. I have been proud and privileged to have served in this capacity over such a wonderful Province. I will miss you all!!
Thank you .
May 2016
From the Provincial Prior:
I would like to you for your generous donations to the above in aid of Hospital of St John & Hospital of St Cross.
The total raised (so far) is approx. £1800, which is great.
The actual holes played on the 23rd May was 108, Strokes 557 and 33 miles walked. The winners of the competition are:
Simon Bottom (Wilfrid Attenborough RA Chapter) 108 miles
John Kean (William Stuart 76A) 560 strokes
David Evans (Royal Gloucester 32) 30 miles
Well done to them and a bottle for each!
My special thanks to my `carers` for the day-Duncan Coombes, Pam Read, Roy Rowe and Dave Wood
FEBRUARY 2016
The Provincial Prior is pleased to announce that the following Knights of the Province are to be honoured by the Most Eminent and Supreme Grand Master at the meeting of Provincial Priory on the 18th May 2016.
Promotions:
E.Kt. Brian Wisbey – Great Herald
E.Kt. John McKinlay – P.Gt.St.B.(B)
1st Appointments:
E.Kt. Robert Spilsbury – P.Gt.A-de-C.
E.Kt. John Marshall – P.Gt.A-de-C.
E.Kt. Robert Blackman – P.Gt.W.of.R.
Congratulations to all of those knights who are receiving honours. They are well deserved for all the dedication and hard work you have given to our order.
NOVEMBER 2015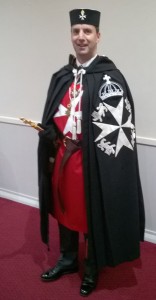 At the Great Priory meeting at Great Queens Street, on Tuesday 17th November 2015, V.E.Kt. Jon Whitaker was appointed and invested as the Great Prior of Malta in succession to R.E.Kt. Eddie Goodwin.
Other knights of the province were :
Anthony Lawrence Bargrove, Gt.1st.Lt.
Anthony James Digweed, P.Gt.1st.Lt.
Leslie Roy Dear, P.Gt.2nd.Lt.
William Whitfield, P.Gt.Hospitaller
James Alan Kerr Colville, P.Gt.Admiral
Lt.Col. Roger John Ellis Jenkins, TD, P.Gt.Turcopolier
---